Predictors of NMOSD diagnosis may be found at first optic neuritis attack
Age, treatment response may help predict final diagnosis, study finds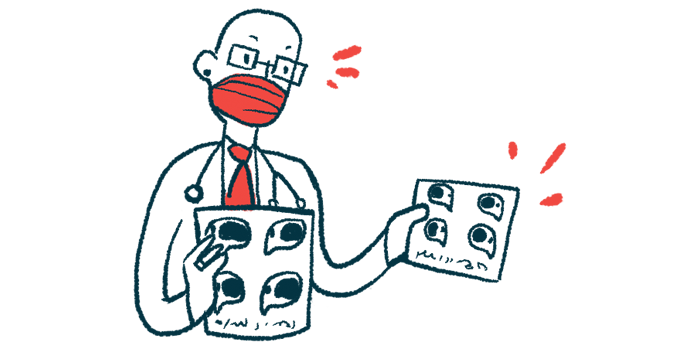 Older age, a poor response to steroids, and the need for a blood-cleaning procedure known as plasma exchange all were found to increase the likelihood of a diagnosis of neuromyelitis optica spectrum disorder (NMOSD) among people experiencing a first optic neuritis attack, a small study shows.
These findings led researchers to conclude that "a careful evaluation" of certain factors — including "patient demographics, treatment response, … and orbital [eye-related] and brain MRIs" — at a person's first attack of optic neuritis were predictors of an NMOSD diagnosis.
"More often than not, the final clinical phenotype [profile] may be predictable at the time of initial ON [optic neuritis] presentation," the team wrote.
To that end, the scientists suggested that "utilizing early predictors in clinical practice could better inform prognosis and management decisions and ultimately optimize patient care."
The study, "Predicting the final clinical phenotype after the first attack of optic neuritis," was published in the Journal of Neuroimmunology.
Optic neuritis attacks also seen in MS, MOGAD
Optic neuritis refers to inflammation of the optic nerves that connect the eyes to the brain, which results in issues with vision. While a characteristic symptom of NMOSD, optic neuritis also is frequently seen in people with other autoimmune neurological disorders, such as multiple sclerosis (MS) or myelin oligodendrocyte glycoprotein antibody disease, commonly called MOGAD.
When a person experiences optic neuritis for the first time, it may be the initial stage of any of these diseases, and "the severity, prognosis, and treatment responsiveness of ON vary according to [its cause]," the researchers wrote.
However, "the final clinical phenotype is often unclear at the time of the first ON presentation," the researchers wrote, noting that this makes it difficult for clinicians to make a definitive diagnosis. In turn, not knowing which disorder is occurring can delay the initiation of appropriate treatments.
While NMOSD and MOGAD diagnoses can be confirmed by the presence of disease-specific antibodies, not all patients have these antibodies. In addition, "antibody testing results can take a week or more," the researchers wrote, meaning that "treatment decisions often are made in the absence of those results."
Moreover, "in some parts of the world, … antibody testing may take even longer or may be unavailable," they added.
As such, identifying predictors of a final diagnosis at the time of an initial optic neuritis attack could help improve the diagnosis and treatment — and potential outcomes — of these patients.
With this in mind, a team of scientists in the U.S. reviewed data from 64 people who were treated for a first optic neuritis attack at the University Hospitals Cleveland Medical Center between 2011 and 2020.
The average age of the patients at optic neuritis onset was 41.3, and 78.1% were female. The patients were followed for an average of 47 months, or nearly four years, and received a final diagnosis after an average of 8.3 months.
A total of 10 patients were diagnosed with NMOSD, while 22 were found to have MS, and 11 were diagnosed with MOGAD. Another seven were found to have neurosarcoidosis, a rare inflammatory disease affecting the nervous system. In the remaining 14 patients, the optic neuritis attack was determined to be an isolated or unknown-cause event.
Analyzing factors for final diagnosis at 1st optic neuritis attack
Next, the researchers used statistical analyses to look for factors that were significantly associated with these different diagnoses.
The results showed that patients who were eventually diagnosed with NMOSD were significantly older, on average, at ON onset than were those who received a different diagnosis (53.9 vs. 39.1 years).
There also were significant differences in response to treatment with steroids, a class of anti-inflammatory medications commonly used to manage optic neuritis. Four of the 10 NMOSD patients (40%) did not respond to steroids, compared with less than one of 10 (7.8%) of the non-NMOSD patients.
At the time of the optic neuritis attack, most of the NMOSD patients (70%) were treated with plasma exchange, a procedure that aims to remove inflammatory proteins or disease-driving antibodies from the blood. The rate of plasma exchange treatment was significantly lower (11.1%) among non-NMOSD patients.
"Older age of onset, poor steroid response, and need for [plasma exchange] support NMOSD" as a likely diagnosis following an initial attack of optic neuritis, the scientists wrote.
The researchers also identified factors associated with the other diagnoses. For example, most MS patients (81.8%) were white individuals, compared with only about half (53.8%) of patients with other diseases. Meanwhile, the proportion of African American patients was much higher among those with MOGAD than non-MOGAD patients (70% vs. 29.4%).
Older age of onset, poor steroid response, and need for [plasma exchange] support NMOSD [as a likely diagnosis].
Some specific features seen on brain MRI scans also were predictive of these other diseases, suggesting these "may be a useful early finding that can help with planning a diagnostic workup," the researchers wrote.
The team stressed that this study is limited by its single-center, retrospective design. The researchers highlighted a need for further studies in larger groups of patients to better identify factors that can help predict the final diagnosis after an initial attack of optic neuritis.
"While this study highlighted some key differences between the clinical phenotypes selected, further work with a larger sample size and more variables needs to be done in order to appreciate the subtle differences between the various causes of ON," the team wrote.