Committee-based tests can reliably ID NMOSD attacks in Uplizna trial
Committee's decisions generally agree with objective measures of disease activity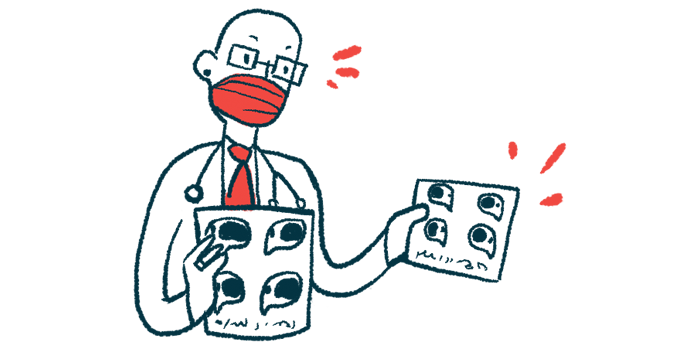 Committee-based assessments are reliable for identifying disease attacks in people with neuromyelitis optica spectrum disorder (NMOSD) in the N-MOmentum clinical trial, which tested the approved therapy Uplizna (inebilizumab-cdon), a new study shows.
The study, "Attack adjudication in neuromyelitis optica spectrum disorder: Substantiation of criteria by magnetic resonance imaging and biomarkers in N-MOmentum," was published in Multiple Sclerosis Journal. The work was funded by Horizon Therapeutics, which markets Uplizna.
"The adjudication process provided an accurate, reliable understanding of the nature of NMOSD attacks, with MRI correlates and biomarker elevations found in the vast majority of adjudicated attacks," Brian Weinshenker, MD, a professor at the University of Virginia School of Medicine and one of the authors of the study, said in a press release from Horizon.
"The process outlined in this study may serve as a useful benchmark to inform future attack evaluations, while also helping clinicians contextualize the efficacy of UPLIZNA and other NMOSD treatments," he added.
No standardized criteria for what constitutes true disease attack in NMOSD
NMOSD is characterized by attacks where new neurological damage occurs and symptoms worsen. Symptoms usually ease somewhat following attacks, but patients typically continue to experience lingering effects, so preventing attacks is seen as a key part of NMOSD treatment.
However, standardized criteria have not been established to define what does or doesn't constitute a true attack in NMOSD. This has been a complicating factor in research.
"Without accurate criteria, attacks may go undetected or symptoms not indicative of true attacks may be misclassified, leading to potentially erroneous interpretation of study results," Weinshenker said.
The Phase 2/3 N-MOmentum clinical trial (NCT02200770) was the basis for Uplizna's approval. This trial used a novel process to classify NMOSD attacks. With feedback from the U.S. Food and Drug Administration, the researchers established 18 criteria for attacks that covered optic neuritis (inflammation and damage to the optic nerve), myelitis (spinal cord inflammation), and brain domains. Each reported attack was reviewed by an investigator and also by an adjudication committee of three experts.
In this study, researchers reviewed data from N-MOmentum to assess how well this process performed at accurately identifying attacks.
During the trial, participants reported a total of 64 potential neurological events. The trial investigators determined the event to be an NMOSD attack in 51 of these cases. The adjudication committee ruled that 43 of these 51 cases were indeed attacks, with the other eight not meeting the criteria. All of the events that were deemed not to be attacks by trial investigators were also confirmed not to be attacks by the committee.
"Only 16% of investigator-determined attacks were rejected following [adjudication committee] review, and no investigator-rejected attack decisions were reversed following adjudication," the researchers wrote. "The high degree of agreement between on-site investigators and [the adjudication committee] underscores the importance of detailed, predefined criteria in reliably and reproducibly diagnosing attacks."
Committee's decisions found to be generally consistent and reliable
Results suggest the committee's decisions were generally consistent and reliable — the vast majority (80%) of their decisions were unanimous, and when asked to re-review cases, they came to the same conclusion in virtually all of them.
The committee's decisions generally lined up with objective measures of disease activity. Out of 41 committee-confirmed attacks that had MRI data available, 37 (90%) showed signs of new disease activity on MRI scans. This included 23 out of 27 attacks for which MRI data was not included in the committee's initial review.
Additionally, in more than half (56%) of committee-confirmed attacks, there was an increase in blood levels of sGFAP, an indication of damage to certain brain cells that has been proposed as a marker of disease activity in NMOSD. Among investigator-confirmed attacks, increases in this disease marker were notably less common among patients on Uplizna than placebo (65% vs. 94%).
"Together with well-defined review criteria and biomarker analysis, this robust adjudication process could serve as the basis for consistent attack evaluations in future studies and real-world care," said Kristina Patterson, MD, PhD, senior medical director of neuroimmunology medical affairs at Horizon. "Importantly, the accurate picture of disease-related attack events seen in this analysis further reinforces the efficacy of UPLIZNA in reducing these attacks and improving outcomes for people with NMOSD."